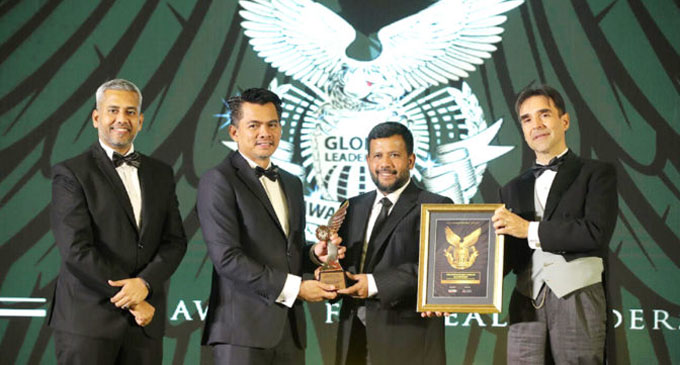 Minister Rishad Bathiudeen wins Global Leadership Award in Malaysia
(FASTNEWS|COLOMBO) – Sri Lanka's Minister of Industry and Commerce Rishad Bathiudeen has won a Global Leadership Award at Malaysia's Global Leadership Awards 2018 (GLA 2018) event at Kuala Lumpur Hilton on Wednesday (25).
GLA 2018 targets CEOs, CFOs, COOs, CTOs, CSOs, Members and the Chairman of boards, Celebrities, Sports Personalities, Community Leaders and other key organizational leaders with distinguished activity. GLA 2018 was awarded to many recipients in 30 categories and Minister Bathiudeen won under "Global Leadership in Trade Development Award" category.
"After stringent evaluations conducted by our international panel of judges, we have recognised the Honourable Minister's deep dedication in spearheading trade development, and for your continued efforts in steering the nation to greater heights. The Leadership values that the Honourable Minister consistently display, in moving forward and adapting as necessary according to the requirements of the economy, motivates us to honour you on this manner. It is with great pleasure that we confer upon the Honourable Minister this coveted and most prestigious of awards, in recognition of your achievements in the arena of leadership" said Arthur F. Carmazzi, the Guru of Global Top 10 Most Influential Leadership in his conferment statement, sent to Minister Bathiudeen.
The Awards event, the eighth in the series, is organized by The Leaders International, a high profiled business magazine and endorsed by American Leadership Development Association (ALDA), a US based NGO which showcases leadership at large. It targets CEOs, CFOs, COOs, CTOs, CSOs, Members and the Chairman of boards, Celebrities, Sports Personalities, Community Leaders and other key organizational leaders with distinguished activity, exceptional leadership qualities and prominent achievements in over 30 categories. According to the GLA 2018 Secretariat, "the awardees are selected by high profile judges from all parts of the globe. The event seeks to honour Leaders for their exemplary contributions towards global growth in economic and leadership development. They will be the Leaders of the glittering evening in an ode to their impeccable leadership qualities. This event richly contributes to the leaders who took extra efforts in nation building while nurturing the global economy to grow."