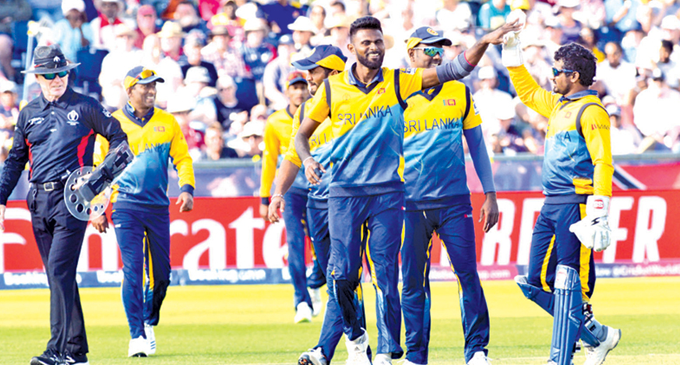 We wanted Pooran's wicket so badly I wouldn't have regretted getting injured says game-changer Mathews
(FASTNEWS|COLOMBO) – Former captain Angelo Mathews has had a rather ordinary 2019 Cricket World Cup not being able to play the role he was chosen for. As a middle order batsman he had only one fifty an unbeaten 85 against England to show against several low scores.
It was partly due to his poor performance that Sri Lanka failed to come up with competitive totals on the board that led them to losing three of their eight World Cup matches played so far and failing to qualify for a place in the semi-final.
However with Sri Lanka on the brink of suffering their fourth loss against West Indies, it was Mathews in quite a different role who saved them from embarrassment and turned a game that was going the opposition's way to a 23-run win for his team here on Monday.
Due to his constant run with injuries Mathews on medical advice had temporarily abandoned bowling his gentle medium-pacers. He last bowled in an ODI against India in December 2017 but when he saw the West Indies gradually taking the game away from Sri Lanka by the audacious batting of 23-year-old Trinidian Nicholas Pooran, it was time he thought that he should step in and bring his experience into play even if it was going to be at the cost of putting his career on the line by bowling.
"We knew that we had to make up two overs. We couldn't just bowl the spinner towards the end when Pooran was batting beautifully, so I said to the captain, "Look, I have a bit of experience, so I'll just try bowling the two overs," recalled Mathews at the post-match press conference.
"I haven't held the ball for, what, a good eight months and that was the first ball after eight months. Pooran was the man that we needed to get and, you know, quite fortunate to get him in the first ball before he clobbered me for a few sixes I thought," he said.
"But, yeah, it was a fantastic effort by Pooran. He batted all the way through and he nearly got them through, but it was fortunate for us, you know, to get him at the right time."
"I haven't been bowling in the nets at all. That was the first ball that I got Pooran out and that was after eight months! If I got injured at that time, I wouldn't have regretted it because we had the game in our hands and we needed the bowler to come in and bowl a couple of overs to make that two overs."
After Mathews had Pooran caught behind by Kusal Perera for 118 – his maiden ODI century, it was all over bar the shouting for the West Indies as their tailenders found the task of scoring 31 runs off 17 balls too big a task, and managed only a further seven runs.
It was Pooran with Fabian Allen who brought West Indies back into the game when Sri Lanka had looked like winning comfortably after having them six down for 199. These two livened up the run chase with a partnership of 83 off 58 balls and suddenly it became a different ball game.
"Fabian was batting brilliantly, too. We needed one wicket as soon as possible when they were going well and they were hitting it clean. Our bowlers didn't have answers to how they played at the time," said Mathews.
"Credit should go to them (Pooran and Fabian) because they batted really well. Our bowlers put their hearts out. Once again, Lasith was brilliant. All the bowlers tried their extreme best and we needed a little bit of luck towards that latter part of the innings and we were fortunate to get that run-out," he said.
Fabian's pyrotechnic innings was unfortunately ended when he was run out for 51 off 32 balls.
The match produced a rare occasion of two young batsmen making their maiden ODI hundreds.
It was 21-year-old Avishka Fernando's maiden ODI century that saw Sri Lanka reach a competitive total of 338-6, the first time they had gone past the 250-run mark in the present World Cup. Fernando played the bowling with such poise that he gave the other misfiring batsmen confidence to go for their shots and play freely. It was something that was lacking in the Lankan batting line up which has been struggling with their middle order throughout the competition until Monday.
"I have seen Pooran play. He's played in the IPL and he's played quite a few games for West Indies as well. He showed his class previously as well and we have seen him. We know all their batters are extremely dangerous. If they get going, they can clear any ground. So we needed to keep taking wickets and Pooran just got stuck in there and he was batting right through to the end," said Mathews.
"If he had batted those three overs as well, it would have been a different story. So, credit should go to him and also Avishka was a fantastic innings. It was a brilliant knock, you know, against that attack. It looks like he has a lot of time to face the quicker bowlers and he was showing it in the past two games as well.
But after the 30s and 40s, he never got going. But after getting that wonderful start, he carried on and he made sure that we got to a very good score towards the end. I must mention Kusal Perera and his start as well, and Kusal Mendis, he was fighting in the middle, and (Lahiru) Thirimanne finished off well. So it was all in all a very good game for us," he said. (DN)