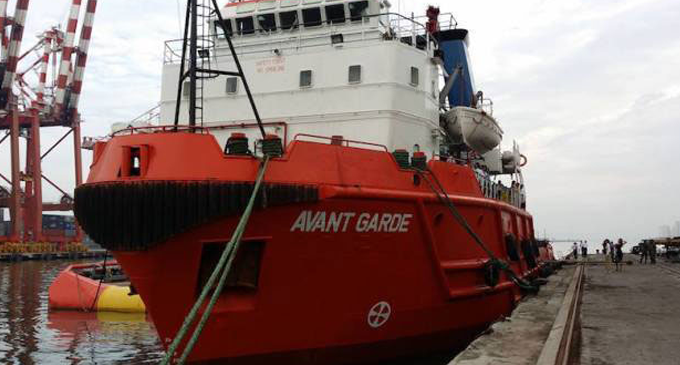 AG files 7,573 charges against Avant Garde case suspects
(FASTNEWS | COLOMBO) – The Attorney General (AG) has filed 7,573 charges against the suspects involved in the Avant-Garde floating armoury case before a three-member trial-at-bar at the Colombo High Court today (Sept 10).
A total of 13 suspects have been charged over this case for violating the Firearms Ordinance, Explosives Ordinance, and the Penal Code, the AG's Co-ordinating Secretary State Counsel Nishara Jayaratne said.
The suspects have been charged over the illegal possession and transportation of firearms and ammunition, and also for providing false evidence over the case.
According to the prosecutor, the Defence Ministry had issued permits for the three automatic firearms and 2,000 rounds of ammunition to the Rakna Lanka security company.
These weapons and ammunition had then been transferred to Avant Garde Maritime Services on a joint venture agreement.
However, the Navy had recovered 816 automatic firearms and 202,935 rounds of live ammunition which had been stored on the ship without a valid permit.
In addition, three suspects had provided false evidence stating that they had requested the Defence Ministry for a permit to store the haul of firearms and ammunition.
The accused in the case include ;
Rakna Lanka Company
Avant-Garde Maritime Services
Nishshanka Senadhipathi – Avant-Garde Chairman
P. Piyasiri Fernando – Former Rakna Lanka Chairman
Victor Samaraweera – Former Rakna Lanka Chairman
K.B. Adhikari Egodawela – Former CEO of Rakna Lanka,
D. Albert Thilakaratne – Rakna Lanka representative in the Avant Garde ship
Balasubramaniam Premachandran – Director General at Rakna Lanka
Nandana Diyabalanage – Department Head at Avante Garde Maritime Services
Nilupul de Costa – Rakna Lanka representative in the Avant Garde ship
Gennadiy Gavrylov – Captain of Avant Garde ship
Saman Dissanayake – Former Senior Additional Secretary at the Defence Ministry
S. Damayanthi Jayaratne – Former Senior Additional Secretary at the Defence Ministry