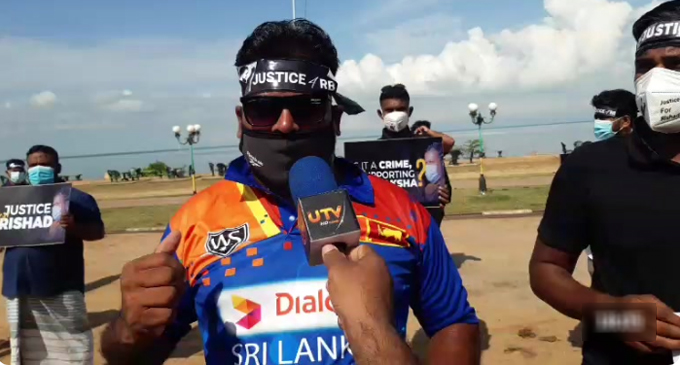 More protests erupt over Rishad's arrest [UPDATE]
(FASTNEWS | COLOMBO) – Protests erupt in several areas over the arrest of the Leader of the All Ceylon Makkal Congress (ACMC), Parliamentarian Rishad Bathiudeen.
In the wake of the arrest, people took to the streets in Puttalam and Vavuniya today (02) demanding his release.
People carrying banners and placards condemned and denounced the arrests by the Criminal Investigations Department (CID) of the former Minister.
The protest was held in accordance with public health guidelines. Masks were worn and social distancing was maintained in a peaceful manner.
Similar protests were also staged in Colombo, Mannar, and several other areas over the past week in Sri Lanka.
The protestors carried placards displaying slogans and chanted that the arrest of Rishad Bathiudeen was illegal, unjust, and in pursuance of an agenda by the Government to subjugate minority communities.
The protestors also claimed that the former Minister was arrested deliberately with a sinister political agenda to please an unknown party, although he has been proven not to have any connection to the Easter attack. The protestors noted that State-run Intelligence Agencies were aware of this as multiple investigations had revealed the innocence of Rishad Bathiudeen.
The protesters demanded that the Vanni District Parliamentarian, who respected humanity and served the people with the utmost respect, must never be blamed for Easter attack and should be released.