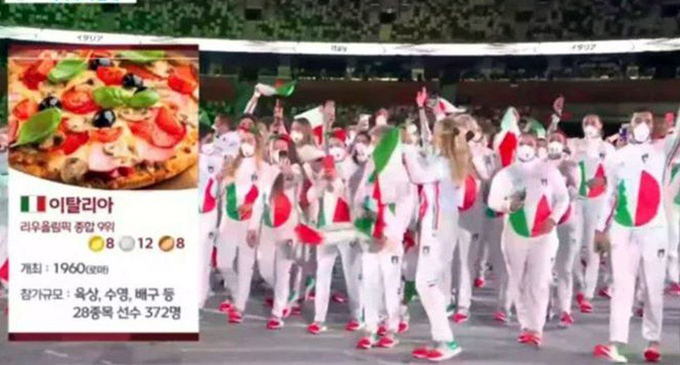 South Korea TV sorry for using pizza to depict Italy
(FASTNEWS | COLOMBO) – Pizza for Italy, Dracula for Romania and Chernobyl for Ukraine.
These were the pictures and captions used by a South Korean broadcaster to depict nations at the opening ceremony of the Tokyo Olympic Games.
MBC has since apologised for offending viewers, after complaints the visuals were "offensive" and "ridiculous".
The channel said it wanted to make it easier for viewers to understand the entering countries quickly but said it was an "inexcusable mistake".
In a statement posted to Twitter, MBC said the decision showed a lack of consideration for the countries concerned.
It added it would start a probe into how the images and captions were decided.
The head of the channel is also expected to make a public apology later on Monday.
A Twitter thread by freelance journalist Raphael Rashid drew wide attention to the "unique" descriptions where even civil unrest was not off the cards.
When Haiti's athletes walked on to the stadium, for instance, an on-screen caption described the country as one "with an unstable political situation due to the assassination of the president".
And when the Syrian team entered, a caption read: "A civil war that has been going on for 10 years."
"Did they literally just pick whatever the first picture was that popped up on Google when they did an image search for the country?" one person asked on Twitter.
Others started trying to guess what images would be used for different countries.