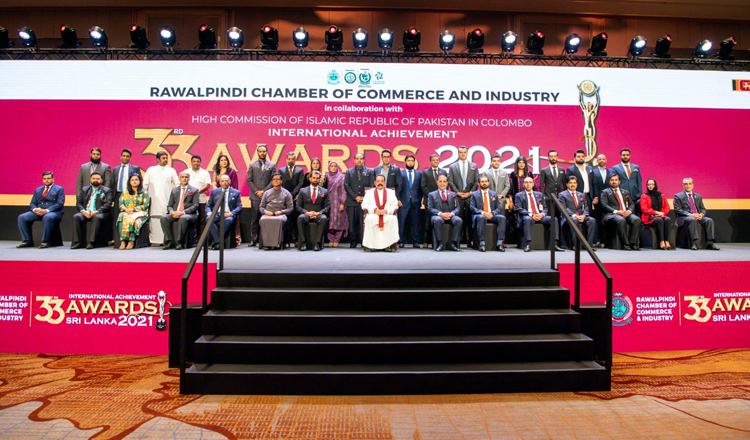 Pakistan – Sri Lanka private sector steps up collaboration to boost trade, investment
(FASTNEWS | COLOMBO) – The High Commission of Pakistan in Colombo, organised 33rd RCCI International Achievement Awards and Pakistan Sri Lanka Business Opportunities Conference, in collaboration with Rawalpindi Chamber of Commerce & Industry (RCCI), the third largest chamber of Pakistan, on Tuesday (23) at Colombo.
Mahinda Rajapaksa, the Prime Minister of Sri Lanka kindly graced the International Achievement Awards ceremony as the Chief Guest and presented awards to leading entrepreneurs of Pakistan.
During his address, Rajapaksa fondly recalled the visit of Imran Khan, the Prime Minister of Pakistan to Sri Lanka in February this year, reflecting the warmth and goodwill between the governments and peoples of the two countries. The Prime Minister highlighted that the visit had further strengthened the broad-based longstanding cooperation between the two friendly countries across various sectors such as trade & investment, culture, science & technology and defence.
Rajapkasa also highlighted the historical ties between Pakistan and Sri Lanka, which is further strengthened by the vast and rich Buddhist heritage preserved in various parts of Pakistan. He particularly mentioned the state-of-the-art documentary "Gandhara: The Buddhist Heritage of Pakistan", launched by the High Commission of Pakistan in association with Ministry of Buddhasasana, Religious and Cultural Affairs in Sri Lanka at the Temple Trees, Prime Minister Office in Colombo, earlier this month.
Following the highly successful Pakistan – Sri Lanka Trade & Investment Conference held on 24th February 2021, on the sidelines of Prime Minister of Pakistan's visit to Sri Lanka, the High Commission of Pakistan in Colombo facilitated a visit of around 100 business representatives of Pakistan from Rawalpindi Chamber of Commerce & Industry (RCCI).
Dr. Bandula Gunwardena, Minister of Trade of Sri Lanka was invited as the Chief Guest and Tharaka Balasuriya, State Minister for Regional Cooperation graced the event as a Guest of Honour.
Speaking on the occasion, the Trade Minister warmly welcomed Pakistan's initiative in enhancing bilateral trade, investment and economic cooperation and underscored the longstanding warm relations between the two countries. The Trade Minister highlighted that the Free Trade Agreement between Sri Lanka and Pakistan, a key trading partner of Sri Lanka, has contributed substantially to expand bilateral trade between the two countries. However, sustained efforts are required to ensure that the FTA is utilized more effectively. He highlighted that efforts are underway to further develop Sri Lankan brands and products to enhance their access to Pakistan.
The Acting High Commissioner of Pakistan in Sri Lanka, Mr. Tanvir Ahmad underlined that Sri Lanka enjoys the exceptional position of being the first country with which Pakistan entered into a Free Trade Agreement (FTA), which shows the expectations that Pakistan has in its economic potential and the common desire of the leadership of Pakistan and Sri Lanka for continued socio-economic development of their peoples. He emphasized the need to cement relations further through enhancing mutually beneficial joint ventures and economic cooperation in high potential sectors of trade and investment, within the ambit of the Pakistan Sri Lanka Free Trade Agreement (PSFTA).
The Acting High Commissioner emphasized that the Government of Pakistan is committed to unlock the immense trade potential with Sri Lanka by proactively engaging in deeper economic cooperation as part of the government's strategic trade policy. The importance of jointly utilizing the opportunities presented by China-Pakistan Economic Corridor (CPEC) project in reaching the Central Asian markets and beyond was also highlighted.
Ms. Asmma Kamal, Commercial Secretary, presented a detailed analysis of the Pakistan-Sri Lanka trade with an emphasis on high potential sectors, challenges and way forward in realizing the true potential of bilateral trade. She emphasized that trade in services and investment must be included in the bilateral FTA to broaden the scope of economic relations. She highlighted that the objective of the Conference was to follow-up, build and strengthen linkages on chamber-to-chamber level and between individual businesses in Pakistan and Sri Lanka, which must be encouraged frequently in future as well.
The Trade & Investment Wing of High Commission of Pakistan in Colombo facilitated Business-to-Business meetings of Pakistani delegates across sectors including Pharmaceuticals, Real Estate & Construction materials, Auto Parts, HVAC, textiles & garments, tourism, logistics & cargo, agricultural commodities with investors, importers and exporters in Sri Lanka.
Two Memorandums of Understanding (MoUs) were also facilitated between Rawalpindi Chamber of Commerce & Industry, Pakistan with Ceylon Chamber of Commerce (CCC) and Federation Chamber of Commerce & industry, Sri Lanka (FCCISL), while nine MoUs were signed between individual business counterparts from Pakistan and Sri Lanka across sectors including pharmaceuticals, automobiles, education etc. The events were held as per prevailing Covid-19 protocols and regulations in Sri Lanka.