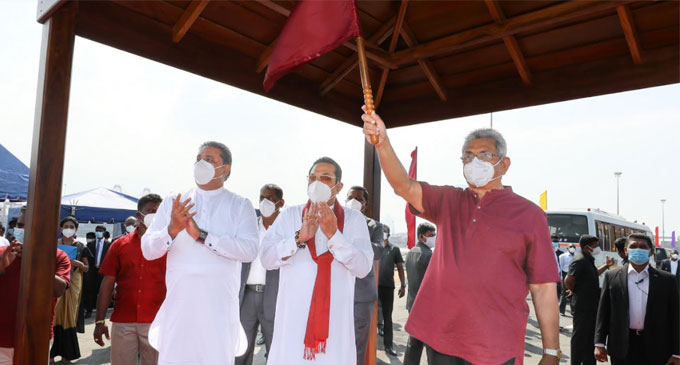 Construction of Colombo Port ECT commences
(FASTNEWS | COLOMBO) – Construction work on the East Container Terminal (ECT) of the Colombo Port commenced on Wednesday (12) under the patronage of President Gotabaya Rajapaksa and Prime Minister Mahinda Rajapaksa.
With the planned construction beginning today, the length of the Eastern Terminal will increase to 1,320 meters and has been scheduled to be completed in July 2024.
Secretary to the Ministry of Ports, U. D. C. Jayalal said the project costs USD 500 million.
The first phase of the terminal is scheduled to be completed on the 4th of July next year and the terminal will span over 600 meters.
In the first phase, 6 ship-to-shore cranes and 20 rail-mounted gantries (RMG) cranes will be installed at the Eastern Terminal.
Once completed, the terminal will consist of 12 giant cranes and 40 normal cranes.
Speaking at the event Sri Lanka's Minister of Ports and Shipping Rohitha Abeygunawardena said, construction of the West Terminal will begin in February 2022 as a joint venture with the private sector and the operational capacity is expected to increase drastically.
The minister noted that President Gotabaya Rajapaksa will have the honor of uplifting the Port of Colombo to world number 13 from its current position of 23.
Prime Minister Mahinda Rajapaksa responding to concerns surrounding such development projects, said that most governments in the past back-peddled at times of economic crisis and the next 3 years are vital for the current government.
He said the past few years only matter to the opposition and the government cannot re-live in the past but rather move on focusing towards the future.