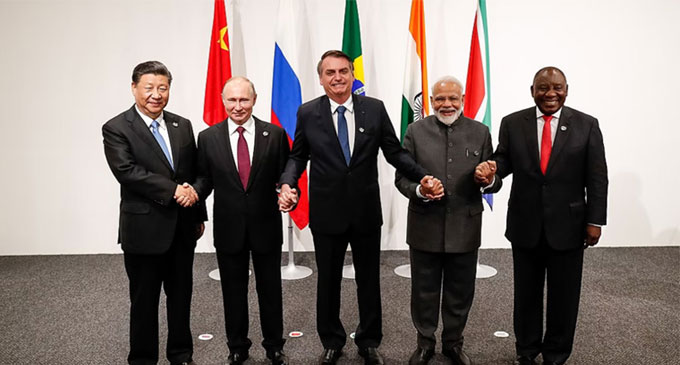 China sets stage to tout its governance model at BRICS summit
(FASTNEWS | CHINA) – China will host the 14th BRICS Summit on Thursday in what analysts see as a chance for Beijing to promote its governance and development model at a time of global instability.
Chinese President Xi Jinping will join with the leaders of Brazil, India, Russia and South Africa via video link to discuss issues of mutual concern as part of the summit themed around ushering in a "new era" for global development.
Ahead of the summit in Beijing, Chinese state media have praised the BRICS – an acronym for the five emerging economies that together account for about one-quarter of the global economy – for boosting "multilateral cooperation with non-Western styles, forms and principles," and stressed the importance of the bloc at a time when "the US (is) pulling its Western allies to 'rebel' against globalization".
In May, Xi called on the group to "reject Cold War mentality and bloc confrontation, and work together to build a global community of security for all".
Despite their substantial differences, the leaders of the five countries maintain a certain distance from the United States-led liberal order.
None of the leaders of Brazil, China, India, or South Africa openly condemned Russian President Vladimir Putin for his country's invasion of Ukraine earlier in the year.
Set against a complex geopolitical backdrop that includes war in Europe and growing economic decoupling between China and the US, the 2022 summit provides Beijing with a timely platform to promote its vision for how international relations should be conducted, according to analysts.
"BRICS is a kind of diplomatic counteroffensive by China to both the revival of NATO and the increase in Indo-Pacific mechanisms that are designed to keep its power in check," Huang Yanzhong, a senior fellow for global health at the Council on Foreign Relations, told.
"Beijing is feeling increasingly isolated right now, as tensions with the US and its allies continue as a result of its tacit support for Russia's invasion."
Phar Kim Beng, former director of the Political-Security Community at ASEAN's secretariat in Jakarta, said Beijing would use the summit to "highlight and criticize the ubiquitous nature of American sanctions that are imposed on thousands of individuals and entities around the world".