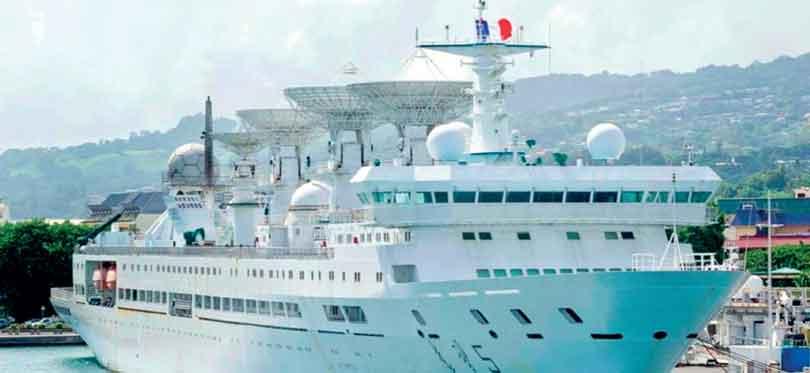 ACMC supports India's concerns on Chinese ship
(FASTNEWS | COLOMBO) – The All Ceylon Makkal Congress (ACMC) expressed support for the concerns raised by India with regard to the docking of Chinese owned spy vessel, Yuan Wang 5 in Sri Lankan ports. The IndianOcean is of strategic importance to all nations in the South Asian region, and the docking of a spy ship poses a major threat to maritime security in the region, Leader of the ACMC and Vanni District Parliamentarian, Rishad Bathiudeen said today.
The ACMC has constantly advocated for regional peace in order to curb the threat of transnational crimes. Whilst much focus has been laid on the land areas where the citizens reside, the need for maritime security is tantamount. The entry and exit of any ship into the territorial
waters of Sri Lanka is not only an issue of Sri Lankan sovereignty and territorial integrity, but also poses security concerns for other neighboring countries.
'Sri Lanka must hold steady with its non-alignment policy, and in that course, it is imperative that Sri Lanka holds regional security and cooperation over and above hosting a potential threat to that security and cooperation even if it is from a friendly nation', Bathiudeen said.
Bathiudeen went on to emphasize that the docking of the said spy ship in Sri Lankan waters poses a serious threat to regional peace.
'The Yuan Wang 5 is a warship, and its navigation through Sri Lankan waters could have major implications of war', he said. Considering the strategic positioning of Sri Lankan ports, it is imperative that Sri Lanka considers any threat to peace in high regard.
Successive Sri Lankan Governments have assured to India that no vessel with interests adverse to Indian sovereignty and territorial integrity would be hosted in Sri Lankan waters. Therefore, Bathiudeen noted that
Sri Lanka must hold to its promises and guarantees made to its neighbours in order to strengthen regional cooperation and peace, especially along its maritime boundaries.