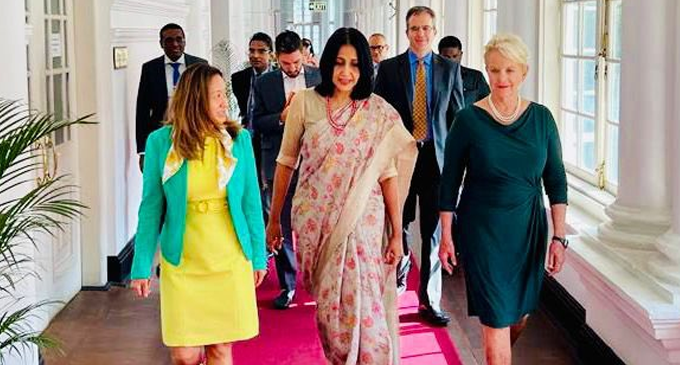 US reaffirms its long-standing commitment to Sri Lanka
(FASTNEWS | COLOMBO) – The United States has reaffirmed its long-standing commitment to the people of Sri Lanka.
During a meeting with the Secretary to the Ministry of Foreign Affairs, Aruni Wijewardane, United States Permanent Representative to the UN Food and Agriculture Agencies in Rome Ambassador Cindy McCain and US Ambassador to Sri Lanka Julie Chung have reiterated the US commitment to work with the government of Sri Lanka toward strengthening the country's economy while also addressing urgent humanitarian needs for the most vulnerable communities.
Ambassador Cindy McCain has also held discussions with Minister of Agriculture Mahinda Amaraweera yesterday.
Ambassador McCain said she had a productive meeting with Minister Mahinda Amaraweera.
She added that with US$ 40 million in US assistance through the Food and Agriculture Organization, farmers in Sri Lanka will be able to use fertilizer to revitalize vital agricultural production.
Ambassador McCain arrived in Sri Lanka on Sunday.
Ambassador Cindy McCain held discussions with President Ranil Wickremesinghe before he left for Japan.
President & Cindy McCain discuss the economic crisis in Sri Lanka
The President's Media Division said the Head of State discussed the prevailing situation in the country with Ambassador McCain.
President Wickremesinghe had explained that his priority is to address the food shortages in the country.
The two parties also discussed the impact of ongoing economic hardships on Sri Lankans, and explored the many ways that the US and Sri Lanka are working together to meet urgent humanitarian needs.