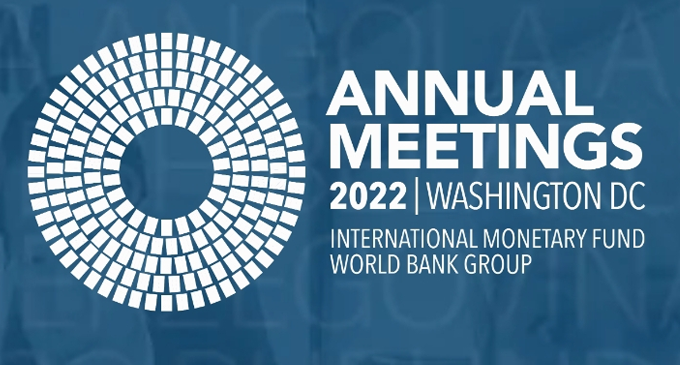 IMF, World Bank summit opens today
(FASTNEWS | COLOMBO) – The Annual Meetings of the Boards of Governors of the International Monetary Fund (IMF) and the World Bank Group (WBG) 2022 will get underway in Washington D.C from today, 10 October.
State Minister of Finance Shehan Semasinghe, Governor of the Central Bank of Sri Lanka Dr. Nandalal Weerasinghe, and Secretary to the Treasury Mahinda Siriwardana will represent Sri Lanka at the IMF/WB Annual Meetings.
The Ministry of Finance said that in addition to attending the multilateral meetings, the delegation will hold crucial bilateral discussions with the IMF and the WB management and technical staff, as well as with officials of key nations.
State Minister of Finance Shehan Semasinghe said the IMF/WB Annual Meetings are of great importance to Sri Lanka at present.
"Sri Lanka is facing a severe economic crisis and is currently working towards resolving its economical issues. Therefore attending these meetings at this movement is of great significance," he said.
The State Minister further said the Sri Lankan delegation is hoping to hold discussions on the future measures to be taken and on the assistance to be obtained from both the IMF and the World Bank in the future.
Shehan Semasinghe also expressed hopes of holding discussions with the key creditor nations, and on Sri Lanka's debt restructuring during this visit, adding that this summit may help Sri Lanka find solutions to its economic crisis.
The IMF/WB Annual Meetings bring together central bankers, ministers of finance and development, parliamentarians, private sector executives, representatives from civil society organizations, and academics.
The meetings will discuss issues of global concern, including the world economic outlook, poverty eradication, economic development, and aid effectiveness.
Also featured are seminars, regional briefings, press conferences, and many other events focused on the global economy, international development, and the world's financial system.
This year's Annual Meetings of the Boards of Governors of the IMF and the World Bank Group will take place in Washington D.C., from today until 16 October 2022.