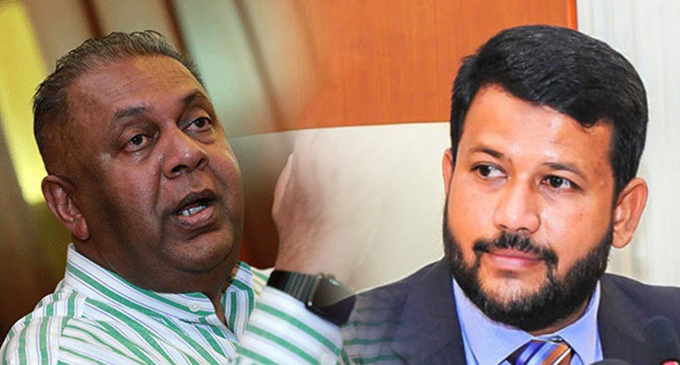 "No allegation against Rishad if he supported Mahinda," Mangala says
(FASTNEWS|COLOMBO) – Rishad Bathiudeen would not have been called a terrorist and a No-Confidence Motion would not have been brought against him had he supported Mahinda Rajapaksa in Parliament last year, the Minister of Finance Mangala Samaraweera stated.
Issuing a communiqué on Wednesday (05) Samaraweera stressed that even today Bathiudeen is being cajoled to join the other side in exchange for the removal of his terrorist label.
"This is a man who served as a Cabinet Minister under them for almost a decade, who we are supposed to believe suddenly became a terrorist overnight after he stood by the United National Party (UNP) and by democracy.
"The irony of the No-Confidence Motion being brought against this man is that it is being championed by Parliamentarians who clung to power for a whole month after their illegal Government last year was defeated in not one, not two but three consecutive No-Confidence Motions. When they saw that they could not get their way, the whole country and the world watched as they tried to terrorise Parliament on 16 November 2018," Samaraweera pointed out.
"If Rishad Bathiudeen or anyone else has committed a crime, there is a process for a criminal investigation to commence, for evidence against them to be presented before Courts and for justice to take its course," the Finance Minister said, adding "Never in the history of our country have people first been declared guilty by the press and in Parliament, only to thereafter have the police call for evidence that they may have committed a crime."
Today the targets are Muslim Leaders being accused of terrorism. "Who will tomorrow's targets be?" Samaraweera questioned, "What will they be accused of?" he added that if this becomes the new norm, no one will be safe from this kind of mob lynching.