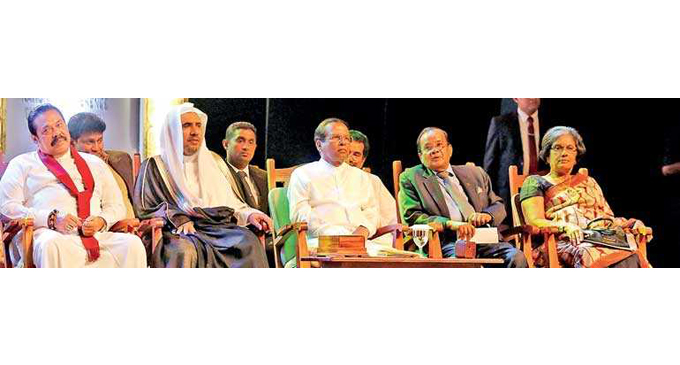 "Only Sri Lankans can attain peace for Sri Lanka" – President
(FASTNEWS|COLOMBO) – President Maithripala Sirisena yesterday said only Sri Lankans can find solutions to the reconciliation and co-existence challenges facing Sri Lanka, and made a resounding call for all communities to come together to achieve peace and harmony. Speaking at the National Conference on Peace, Harmony, and Co-existence, held at Nelum Pokuna on Tuesday evening and hosted by Western Province Governor A.J.M Muzammil, President Sirisena said he is ready to work with anyone dedicated to fostering peace in Sri Lanka. He welcomed Muslim World League Secretary General Sheikh Mohammed Bin Abdul Karim Al Issa, who spoke at the event and made a donation of $ 5 million to assist the victims of the 21 April attacks.
"We have no way to bring those people back, the loss of life was serious. Removing the fear and insecurity among the people is not easy. Even though three months have gone by, the sorrow in our hearts has not diminished. The friendship and trust that existed between the different communities of this country was completely destroyed. As a Government and at a personal level, we have worked to restore relations between all Sri Lankans. But after the Easter attacks, people started hating even the words reconciliation and co-existence. We can heal a wound, but it is not easy to heal a heart," he said.
People misinterpreting and destroying the teachings of major religions is a problem the world over, but President Sirisena noted that many did not expect it to happen in Sri Lanka. Since the attack, the dedication of the Muslim community to reach out and have more engagement with other communities is laudable, the President said, praising the organizers of the event. He called on them to hold more programs with co-existence as the focus, to bring people together and improve their understanding of other communities.
"Due to the Easter Sunday attacks, people started fearing Muslim people. Even within the community, there was fear that another attack could take place. We as a Government have done everything in our power to tackle this situation. No other country managed to root out a terrorist organization in a matter of weeks. Under my guidance, all officials met every night to make sure those responsible were caught. Even though I believe in and stand for peace and reconciliation, I will not hesitate to use all State power to fight terrorism," he added.
The President reiterated that the security institutions worked with the intelligence that was at their disposal, and they were extremely competent. He acknowledged that the attack could have been averted if the officials who received initial intelligence carried out their duties properly, but Sirisena noted in the end he was also dragged into the controversy. Nonetheless, officials who were dedicated to their duty did manage to deal with the situation effectively, he stressed.
"There are clearly significant problems. There are factions with extremist views, and no matter how much we try to bring these warring factions together, they will not come together. They will not agree to work together. In Buddhism, we know that hate only begets hate. But terrorism does not understand this, they have a completely different agenda. People of other communities need to understand how much the Muslim community has suffered because of the act of the attackers. As a result, everyone has suffered. Therefore, all of us need to come together to stamp out extremism." President Sirisena said he will extend a hand of friendship to anyone who comes in peace, and anyone who works to heal Sri Lanka, regardless of the criticism that he will face. He slammed factions that attempt to use the situation of the country for their own political agendas, and called on them to understand the seriousness of what they do and the damage it causes.
"We need to find a way to put aside suspicion and solve for ourselves how we can move on. We must accept that this is a Buddhist nation, and protect our history, culture, and intrinsic Sri Lankan-ness. But we also have to understand how the traditions of other communities can be protected and we can live together. Only we can find solutions to these challenges. To find solutions we have to have greater understanding, patience, intelligence, empathy, and intellectual capacity. All of us have to be dedicated to this cause."