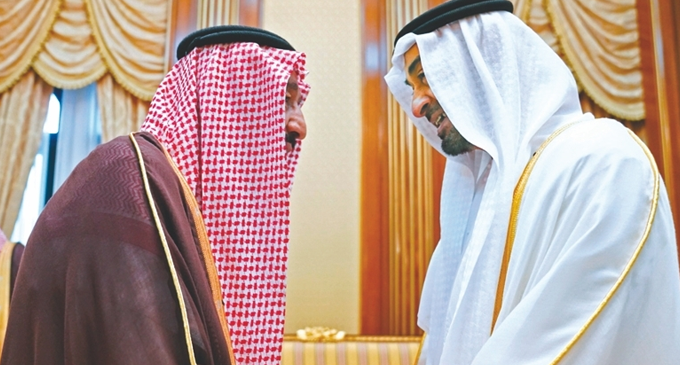 Saudi, UAE back talks to heal rift between Yemenis in Aden
(FASTNEWS|COLOMBO) -Saudi Arabia and the UAE called on conflicting Yemeni parties in Aden to prioritise dialogue in the interests of Yemeni people.
His Highness Sheikh Mohamed bin Zayed Al Nahyan, Crown Prince of Abu Dhabi and Deputy Supreme Commander of the UAE Armed Forces, on Monday, met the Custodian of the Two Holy Mosques, King Salman bin Abdulaziz, at Al Mina Palace in the holy city of Makkah.
In a statement, the Crown Prince expressed his appreciation for the wisdom shown by the Saudi leadership in inviting Yemeni parties in Aden to hold talks.
This call, the Crown Prince said, embodies the common concern for Yemen's stability, and represents an important framework to defuse tensions, and achieve solidarity among the people of Yemen.
Dialogue is the only way to resolve differences between Yemenis, Sheikh Mohamed stressed, and called on Yemeni parties to seize this opportunity, and carry out talks to reach a consensus that is in the best interest of Yemen and its people.
Meanwhile, the head of Yemen's separatist movement said he was ready to take part in Saudi-brokered peace talks.
The chief of the separatist Southern Transitional Council, Aidarus Al Zubaidi, said he was committed to a ceasefire in Aden.
The rebel leader alleged last week's violence had been provoked by Hadi's forces, who planned to assassinate the movement's leaders and then "provoke our people and liquidate our presence".
Al Zubaidi, however, voiced support for a ceasefire called by the coalition on Saturday, saying separatists were ready "to work responsibly with Saudi Arabia in managing this crisis".
The Yemeni government and separatists both voiced backing Riyadh's call for dialogue and a truce, and there have been no reports of clashes on Monday.
President Abd Rabbu Hadi held talks with the Saudi King and Crown Prince Mohammed bin Salman on Sunday to discuss the situation, the state-run SPA news agency reported.
Separatist commanders accused Al Islah Islamist party of killing one of its commanders and "infiltrating" the Hadi government, which is politically and financially supported by Saudi Arabia. Since the fighting flared on Thursday, around 40 people have been killed and 260 others wounded, including civilians, according to the United Nations.
Pro-Hadi forces and separatists have theoretically been allies since 2015, fighting the Houthis. But many in southern Yemen seek renewed independence for the region, which was a separate state until 1990.(Khaleejtimes)