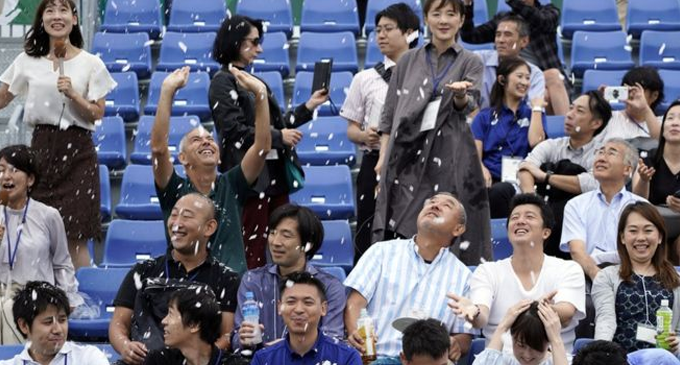 Tokyo 2020 Olympics organisers test snow machine to beat the heat
(FASTNEWS | COLOMBO) – It was 25C (77F) in Tokyo, but snow fell in well-ordered flurries at a canoeing event in the Japanese capital.
It wasn't freak weather, but the latest innovation being tested by 2020 Olympics organisers hoping to keep spectators cool and comfortable when the Games take place next summer.
Around 300kg (47st) of artificial snow was sprayed over stands at the Sea Forest Waterway venue.
The goal: to see if it could lower temperature and humidity levels.
Tokyo regularly sees temperatures of 35C and 80% humidity in July, prompting concerns that spectators could suffer heatstroke.
Sea Forest Waterway will host Olympic and Paralympic rowing and canoeing events.
Half of the 2,000 seats are uncovered, after plans for a full roof were scaled back to cut costs.
So on Friday, members of the Tokyo 2020 organising committee filled the stands during a five-minute snow machine trial, during a test event for the canoe sprints.
The result may not have been what they hoped for, however. The temperature there was 25.1C before the snow – and exactly the same afterwards.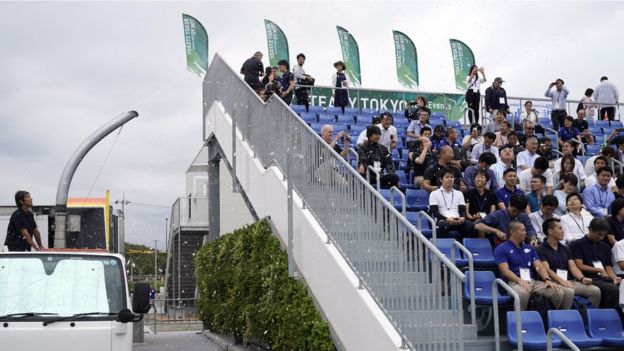 Snow, misting machines and umbrella hats
The machines, which have previously been used at music festivals, make snow by crushing ice and mixing it with air, and can cover an area of 15m in windy conditions. Their cost has not been disclosed.
The organising committee has not firmly decided to use the artificial snow and said more tests would follow – including a second on Friday.
"Today is just a first trial," said Tomoaki Matsumoto, an official in the committee's venue services department. "But it is possible for us to use it."
Olympic chiefs have been developing cooling strategies since Tokyo was awarded the Games in 2013, trying everything from misting machines at stadiums to extravagant umbrella-shaped hats.
Recent summers have done little to allay fears of a boiling 2020 Games.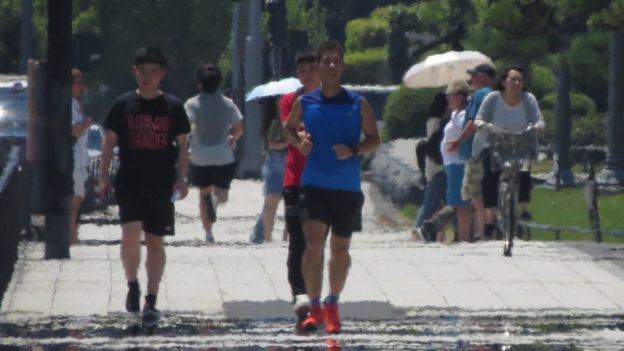 (BBC)