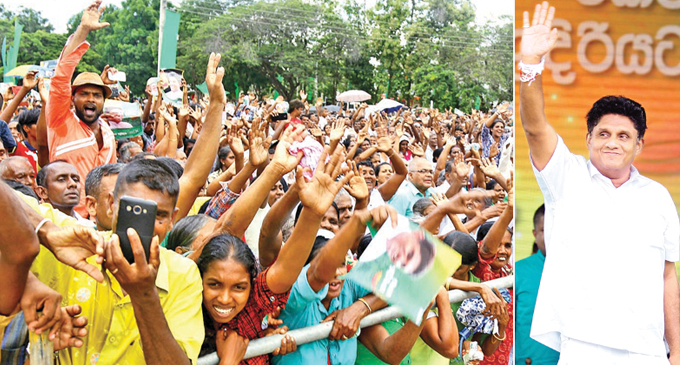 Sajith blocked from reaching Kurunegala rally
(FASTNEWS | COLOMBO) – New Democratic Front (NDF) Presidential candidate Sajith Premadasa could not attend a political rally in Kurunegala yesterday (30) due an alleged sabotage attempt.
The NDF claimed that the sabotage could have risked Premadasa's life.
An organizer of the rally at Kurunegala town said that lights suddenly went out in the area when the helicopter carrying Premadasa was about to land.
The crew operating the helicopter had refused to land as it was too dark and risky. Premadasa was arriving in Kurunegala after attending political rallies in Vavuniya, Kinniya and Dambulla.
Due to the power outage Premadasa could not attend the rally in Kurunegala and had to proceed to the next meeting in Minuwangoda.
The Kurunegala meeting was organized at a ground belonging to the Kurunegala MC which is under an SLPP administration.