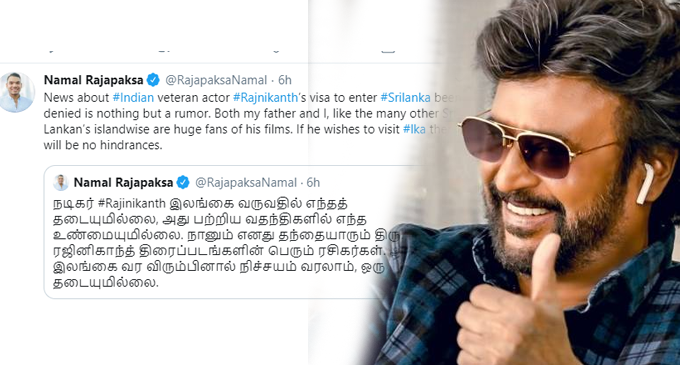 No ban on Rajinikanth from visiting SL: Namal
(FASTNEWS | COLOMBO) – Parliamentarian Namal Rajapaksa said that there was no ban on Tamil Nadu actor-turned-politician Rajinikanth from visiting Sri Lanka.
"News about #Indian veteran actor #Rajnikanth's visa to enter #Srilanka been denied is nothing but a rumor. Both my father and I, like the many other Sri Lankan's islandwise are huge fans of his films. If he wishes to visit #lka there will be no hindrances," MP Rajapaksa tweeted.
News about #Indian veteran actor #Rajnikanth's visa to enter #Srilanka been denied is nothing but a rumor. Both my father and I, like the many other Sri Lankan's islandwise are huge fans of his films. If he wishes to visit #lka there will be no hindrances. https://t.co/pGxaq6VuGy

— Namal Rajapaksa (@RajapaksaNamal) January 18, 2020