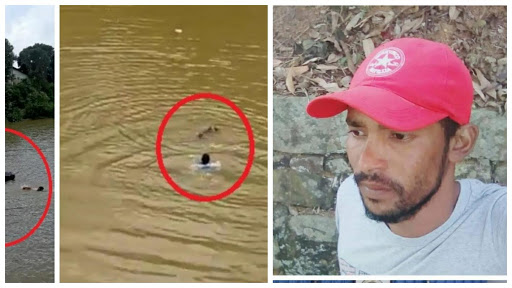 Hameed Rizwan; Religion Of Humanity Killed Him ?
(FASTNEWS | COLOMBO) – The funeral of Hameed Rizwan, the 32-year-old father of two who lost his life while attempting to rescue a female who jumped into the Upper Kotmale Reservoir, is scheduled for today.
The final rites for the deceased youth will be performed at the Rathnagiriya public cemetery in Lindula.
Following the post-mortem examination conducted by the judicial medical officer of Nuwara Eliya Hospital on Friday (22), Rizwan's remains were brought to his homeplace.
The OICs of Talawakelle and Lindula police stations were among the throng of people who joined to pay their last respects to Rizwan for his heroic act.
In the meantime, the female who made a suicide attempt continues to receive treatment at the Divisional Hospital in Lindula.
A 22-year-old female on Thursday (21) had jumped into the Upper Kotmale Reservoir from the bridge that was built across the waterbody.
Hameed Rizwan, a 32-year-old father of two who had jumped into the reservoir to rescue the female, however, he had drowned during his rescue attempt. His remains were recovered on Friday and subsequently sent for post-mortem examination.
The drowning female had been rescued by the OIC of Talawakelle police Inspector Ruwan Fernando with the help of another police officer.