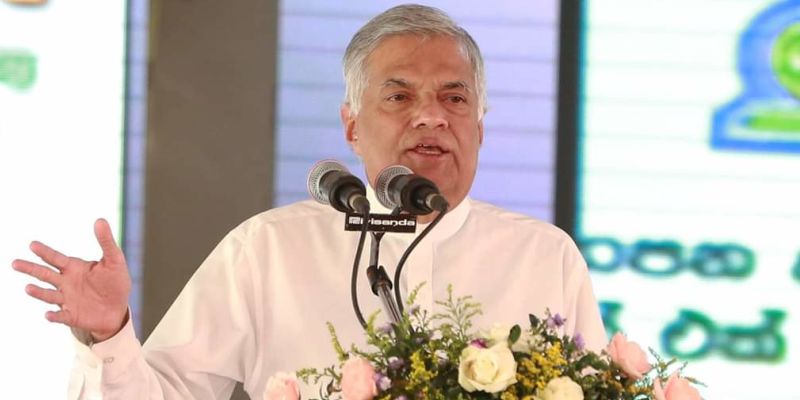 Focus on containing spread of COVID-19 -Ranil Wickramasinghe
(FASTNEWS | COLOMBO) – Leader of the United National Party former Prime Minister Ranil Wickremesinghe has reiterated the importance of prioritizing measures to contain the spread of the novel coronavirus.
Speaking during an event in Hambantota, the UNP Leader said the Health Minister and the government are focused on conducting an election instead of investing the resources on protecting the lives and livelihoods of the people.
The former Prime Minister also noted that the government has been making contradictory statements pertaining to funds it received from various international donors to combat the COVID-19 crisis.
Ranil Wickremesinghe said several Health Ministers around the world have contracted the novel coronavirus by attempting to contain the spread, while claiming however that the country's Health Minister had spread the virus by attempting to garner votes.
Wickremesinghe raised questions over the funds received from the World Bank to contain the spread of the virus.
He said the Health Minister in response to his query had mentioned that the government had not received any funds and claimed it will be delivered only after three years, while the Prime Minister has said the government received 45% of the pledged funds from the WHO.
The former Premier questioned how an emergency fund will be delivered after three years, while stating that the country will receive the remaining money from the emergency fund if the initial funds are spent.
He called for an accurate account of things as the statements made by the government are contradictory.
Former Prime Ranil Wickremesinghe also said an UNP-led administration is capable of repaying the loans of the country and also usher in meaningful development.
Ranil Wickremesinghe said the UNP has solutions for main issues faced by the country and therefore urged voters to give the party the governing power to serve the public.
Commenting on the Hambantota port Wickremesinghe said the country wanted a small manageable harbour, adding however that a massive port was built and the country is unable to repay the loans which resulted in debts increasing.
Wickremesinghe added however he managed to ink an agreement with a Chinese entity to transform it into a Private Public Partnership, and the country is not paying the loans anymore.
He claimed if not the loans would've been charged from the people.
Ranil Wickremesinghe said the UNP was accused of various things, while adding however that his faction was truthful to the people and initiated systematic development.