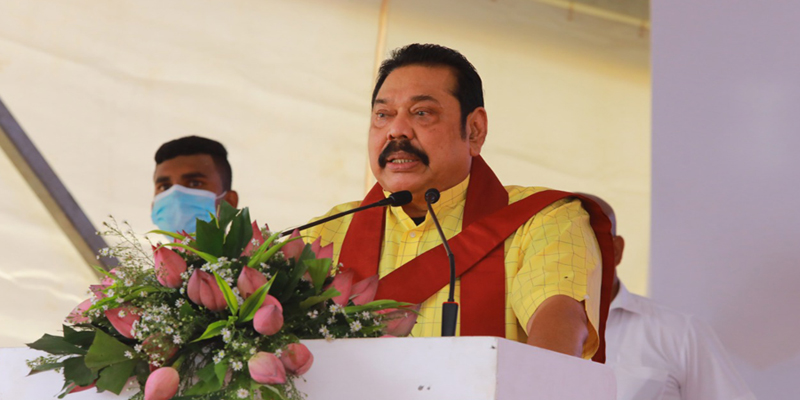 Good governance govt made economy weak -PM
(FASTNEWS | COLOMBO) – Prime Minister Mahinda Rajapaksa says the country's economy was already in a weakened state before facing the coronavirus pandemic, due to the former government's ineffective policies.
Speaking at a public gathering held in Colombo yesterday, the Premier claimed the total debt burden had increased by 74% and the value of the rupee had dropped by 40% during the term of the the good governance government.
The Prime Minister added the 2019 Easter Sunday attacks worsened the situation of the economy, adding that when the present administration came into power in November the debt burden and interest rates had to be reduced, to revive the economy.
Premier Rajapaksa claimed correcting the actions of the good governance government is not an easy task.
The Premier said the former government halted all Chinese projects immediately after it came into power, and by acting in such a manner, a wrong message was sent out to all foreign investors.
The Prime Minister added that by telling the global community that the Hambantota Port will be given on lease of 200 years to China due to the inability to repay the debt, a wrong image of the country was given to investors.
Prime Minister Rajapaksa claimed however that the Hambantota Port was sold for other reasons, while some people's pockets were filled through the move.
The Premier also noted the good governance government obtained a loan of 4.5 billion US dollars, through two sovereign bonds, in 2019 alone, while claiming that no development was initiated through loans taken on by the former government.
Prime Minister Rajapaksa also stressed that it is vital that agreements pertaining to state resources or other significant subject matter are presented in Parliament before being signed.
The Premier stressed laws must be introduced to make it mandatory for such agreements to be presented in Parliament.