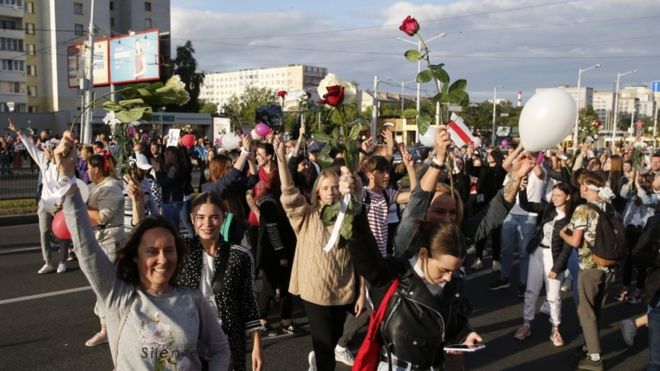 Belarus election: Claims of 'widespread torture' against jailed protesters
(FASTNEWS | COLOMBO) – Human rights activists and monitors say there is growing evidence of police brutality against people who have been detained in Belarus as protests over the disputed election continue.
Some of the 6,700 people detained since Sunday have been released and allege mistreatment, including beatings.
Amnesty International said the accounts suggested "widespread torture".
Thursday marked the fifth day of protests amid widespread allegations of vote rigging.
Sunday's vote saw long-term President Alexander Lukashenko elected for another term.
In a statement on state television, Senate Speaker Natalya Kochanova said the president had ordered an investigation into the mass detention of protesters, and that more than 1,000 had been freed.
'Torture chambers'
Some of the released prisoners shared pictures on messaging app Nexta show their bruised and swollen bodies, including injuries to backs and buttocks, that were allegedly caused by police.
Amnesty International said people who had been arrested described being stripped naked, beaten and threatened with rape.
Source: BBC
-Agencies