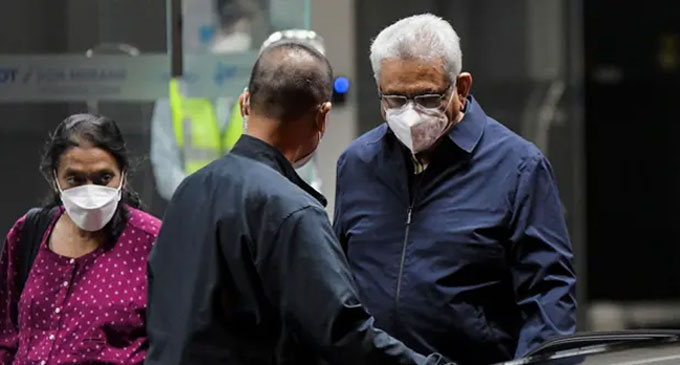 Former President Gotabaya Rajapaksa lands in Thailand
(FASTNEWS | COLOMBO) – Former President Gotabaya Rajapaksa has arrived in Thailand  for a temporary stay.
According to The Straits Times former President Rajapaksa is believed to have arrived in Bangkok's Don Mueang Airport around 8pm Thai time, via a charter plane from Singapore's Seletar Airport.
Thai Prime Minister Prayut Chan-o-cha told media yesterday that permission was granted on humanitarian reasons, while the Thai Foreign Minister said Rajapaksa will enter the country with a diplomatic passport, which would allow him to stay 90 days.
Thailand is the second South-east Asian country that former President Rajapaksa is seeking temporary shelter in after he left Sri Lanka amid mass protests.
He flew to Singapore on July 14, via the Maldives. Shortly after he arrived in Singapore, former President Rajapaksa, tendered his resignation as President.
Singapore's Ministry of Foreign Affairs said on his arrival in Singapore that the former President had been allowed entry on a private visit on a 14-day visit pass and had not asked for asylum.
The pass was later extended for another 14 days.
The Strait Times said former President Rajapaksa initially stayed at a hotel in the city centre, but was believed to have moved to a private residence.
The Thai government believed Rajapaksa's stay would not cause any trouble for Thailand, and that the Sri Lankan government did not oppose the decision.
The Thai Foreign Ministry Spokesman Tanee Sangrat said former President Rajapaksa's stay in Thailand was temporary, and that "the Sri Lankan side informs us that the former president has no intention for political asylum in Thailand and will travel to another country afterwards".